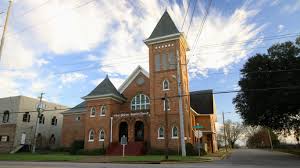 Places To Go »
First African Baptist Church
Bloody Tuesday was a march that occurred on June 9, 1964 in Tuscaloosa, Alabama during the Civil Rights Movement. The march was both organized and lead by Rev. T. Y. Rogers and was to protest against segregated drinking fountains and restrooms in the county courthouse. The protest consisted of a group of peaceful African Americans walking from The First African Baptist Church to the Tuscaloosa County Courthouse; however, protesters did not get very far before being beaten, arrested, and tear gassed by not only police officers standing outside the church, but as well a mob of angry white citizens. These events were similar to Bloody Sunday during the Selma to Montgomery marches, which took place a year later and received an extensive amount of media coverage, while there were no journalists to capture the events of Bloody Tuesday. During Bloody Tuesday thirty-three men, women, and children had to be hospitalized, and ninety-four African Americans were arrested by police, this all taking place right outside the church with the marchers not having an opportunity to get to the courthouse.
2621 Stillman Boulevard
Tuscaloosa, AL 35401
Where to Stay
Upcoming Events
Where to Eat
I want to discover my
Alabama Sweet Spot by
Was this listing helpful?