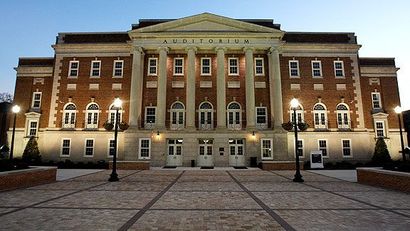 Places To Go »
Foster Auditorium
Foster Auditorium is a multi-purpose facility at the University of Alabama in Tuscaloosa, Alabama. It was built in 1939 as aWorks Progress Administration project and has been used for Alabama basketball, women's sports (in the 1970s and 1980s), graduations, lectures, concerts, and other large gatherings, including registration. Its status as the largest indoor building on campus came to an end in 1968 with the opening of the Memorial Coliseum. The building housed the Department of Kinesiology until 2006. In April 2009, the University announced a major renovation for the auditorium. After the renovation, theCrimson Tide women's basketball and volleyball programs moved back to Foster Auditorium, their original home. The facility is named for Richard Clarke Foster, president of the University of Alabama from 1937 to 1941. The building was declared a National Historic Landmark on April 5, 2005. More than any other event, Foster Auditorium is known as the site of the "Stand in the Schoolhouse Door" incident. On June 11, 1963, Governor George C. Wallace, making good on a campaign pledge to not allow integration of the university, stood in the doorway of the building on the day of registration. He was attempting to block two black students, Vivian Malone and James Hood, from enrolling at the university. PresidentJohn F. Kennedy called on the Alabama National Guard to forcibly allow the students to enter the building if need be. Calling it "an unwelcomed, unwanted, unwarranted and force-induced intrusion upon the campus,"[7] Wallace denounced the actions, but, seeing as he could not win against the combined efforts of the Guard, federal marshals and Deputy United States Attorney General Nicholas Katzenbach, stepped aside, returning to the state capital as Malone and Hood entered for registration. The incident is seen as one of the seminal events in the Civil Rights Movement in America.
801 6th Avenue, University of Alabama campus
Tuscaloosa, AL 35401
Getting There
801 6th Avenue, University of Alabama campus
Tuscaloosa, AL 35401
Get Directions
Where to Stay
Upcoming Events
Where to Eat
Find Your Alabama Sweet Spot
Find the sweetest Alabama vacation spot perfectly suited just for you. Customize your next Alabama vacation by the type of experience you are looking for, then filter by the region of Alabama you want to visit. Don't know what your Alabama destination should be? Let our interactive location map be your guide. Now, where is your next Alabama Sweet Spot?
Was this listing helpful?