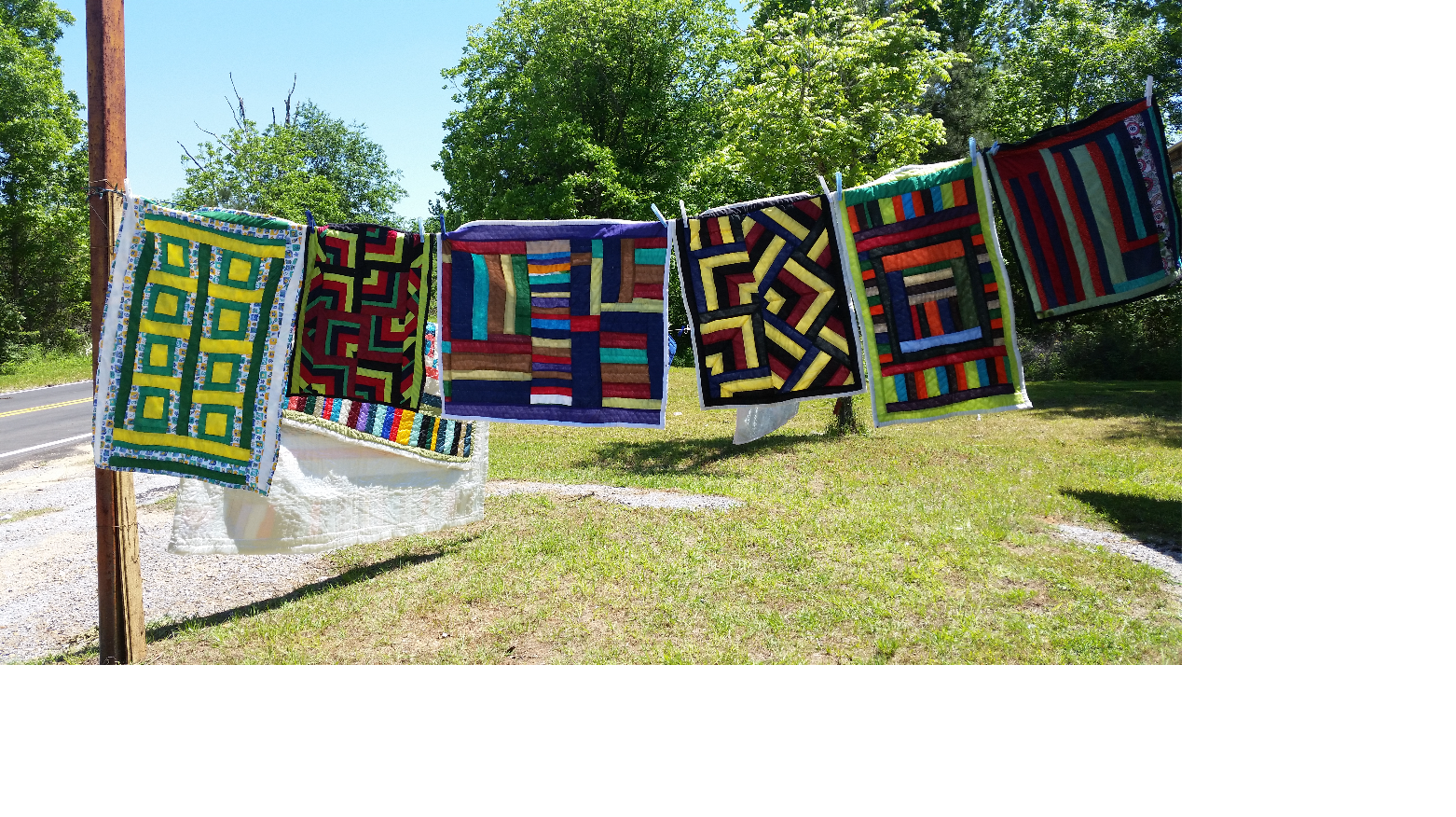 Places To Go »
That's Sew Gee's Bend
THAT'S 'SEW' GEE'S BEND, INC., formed in 2007 by Tinnie and Minnie's daughter/niece and son-in-law, De'Lon and Claudia Charley, was created to make the Gee's Bend quilts more accessible and more affordable not only to the citizens of Alabama but to all who are lovers of the wonderful quilts, stories, songs that Gee's Bend represent. The company has been blessed to have accomplished so much in so little time, from hanging in museums from Ohio to Georgia to being on display at galleries and libraries throughout the state of Alabama, That's Sew Gee's Bend has been featured on local television in Birmingham ("Absolutely Alabama" - Fox 6, "Daytime Alabma", WVTM 13) and have been featured in many newspaper and magazine articles throughout the state of Alabama. Though headquartered in Cropwell, Alabama, with a store at Pepper Place in Birmingham, "TSGB" is 100% Gee's Bend born and Gee's Bend bred!! Tinnie, a former member of The Gee's Bend Quilt Collective is a first time author with TSGB self-publishing her first volume of her personal poems, short stories and anecdotes in her book called "The Gee's Bend Experience" which was on some of Birmingham bookstores best-sellers list! Tinnie is also the first published author from Gee's Bend!! She has also been featured on Birmingham radio station WBHM 90.3's "Tapestry" program twice, one of which garnered the station a National Public Radio (NPR) broadcasting award for their feature on Tinnie. Growing up as a "bender" in Gee's Bend was unlike anything today's children will ever see and know. Tinnie, the eldest sibling, along with her sister Minnie, the third of five, had to not only do the house chores along with their mother, but also had to take to the fields side by side with their brothers and father and prepare the ground for seasonal planting...only for months later to reap the harvest when the crops were ready....from sun up to sundown. It was then when their mother put some old shreds of fabric and clothes with a needle in their hands and had them to begin quilting little blocks. From being used as a form of punishment to passing the time away, Tinnie and Minnie never dreamed that their "punishment" would one day hang in museums! Their grandfather and father were also astute businessmen/philanthrophists in the community that allowed neighbors to shop in their garden and even allowed them to use "credit" they granted to them if funds were tight. Years later they bought the shares from the "shareholders" of the community to later form the family-owned store, the "Boykin Mercantile Store" which is still in operation to this day by Tinnie Pettway and daughter Claudia,especially on special event days like the annual May Day,which is held the first Saturday in May. It was Tinnie as the first employee of the store that was very instrumental in keeping the books and monies correct in the early days of the store when she was a girl. Tinnie along with her brothers and sister eventually moved to Bridgeport, Connecticut and lived for quite a few years where she received her LPN degree in Nursing and not long after the birth of her one and only daughter, Claudia, she decided to move back to Boykin (Gee's Bend) and there became a daycare owner and took over the operations of the mercantile store after the daycare was closed down. Minnie, who has Bachelor and Masters Degrees, returned home and taught physical education and served as a "guidance counselor" for many children in the Wilcox County School System where she taught 25+ years. Now a retiree, she continues to keep the family land and livestock in place along with her brothers. Claudia, a fourth generation quilter, a "bender" herself and a astute businesswoman in her own right, with her husband De'Lon saw a great opportunity and future for not only her mom and aunt works but the betterment of the community and the future for their children....the creating of a company that not only showcases the quilts but establishes the community in a much greater light and preserves the inheritance of her mom and aunt's quilts for their children. Generational giving to the community. Generational inheritance for their children. The way it should be!! Now both sisters have their hands full (with enjoyment) by constantly producing quilts, wall arts and potholders for the company that bears their name in their quilt collection. With greater opportunity growing each day for the company, along with their "growing" four grandchildren, Andrew, Jalynn, Francesca and Frederick DeLon II, Tinnie and Minnie know who has blessed them to see such a time in their lives taking place and He's the one who will make this great inheritance be a blessing for generations to come for the family after them.
14031 County Rd 29
Boykin, AL 36723
Visit website for information
Find Your Alabama Sweet Spot
Find the sweetest Alabama vacation spot perfectly suited just for you. Customize your next Alabama vacation by the type of experience you are looking for, then filter by the region of Alabama you want to visit. Don't know what your Alabama destination should be? Let our interactive location map be your guide. Now, where is your next Alabama Sweet Spot?
Was this listing helpful?