Exploring Alabama's Historic Ballparks
by Amity Moore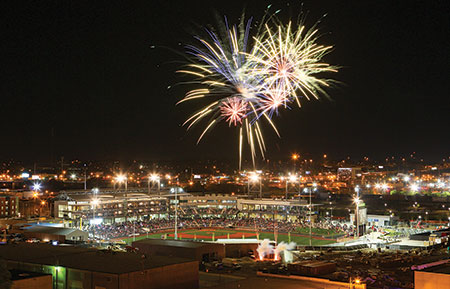 Although Alabama doesn't often tout its connection to America's favorite pastime, the state harbors a rich baseball history that rivals that of Boston, New York or Chicago. Its legacy includes several minor league teams, beloved players who are household names and ballparks where history was made. Follow this road trip to nine of the state's historic ballparks and a world-class museum and discover the sport's Alabama roots.
Optimist Park, Huntsville
Before Huntsville garnered fame for its space program, it had a reputation for baseball. In 1927, H.E. "Hub" Myhand took a job in 1927 as physical director for Dallas manufacturing Co. One year later, his Dallas Mills baseball teams were playing at newly opened Dallas Park. He coached those teams through the 1940s, earning his nickname, "Mr. Baseball."
In 1949, the Optimist Club bought Dallas Park, added lights and renamed it Optimist Park (704 Oakwood Ave.; 256-427-5775). The mill teams were disbanding as the cotton mills closed, but baseball in Huntsville had not thrown its last pitch. As one of the few fields open to blacks and whites, Optimist Park hosted exhibition games for the Birmingham Black Barons and other Negro League teams. The City of Huntsville renovated the park in 1994, turning it into a place for youth and high school teams to practice and play.
Rickwood Field, Birmingham
South of the Kimbrel's home field lies Birmingham, home of the nation's oldest ballpark. Originally built in 1910 for the Birmingham Coal Barons, which began playing in 1885, Rickwood (1137 Second Ave. W; 205-458-8161) borrowed some of its design from Pittsburgh's Forbes Field. On Sundays and days when the Barons played games away, Rickwood hosted the Black Barons, a team that was part of the Negro League. It was these teams that gave baseball some of its most memorable players—Leroy "Satchel" Paige and Willie Mays, among others. They all played at Rickwood, but it wasn't until April 17, 1964, that the first legally integrated game at Rickwood for players and fans took place.
Today no team calls Rickwood home, but once a year the now fully integrated Barons play a "throwback" game, the Rickwood Classic, during which the Barons and their opponents dress in period uniforms and play a regular season match-up that counts toward their official Minor League AA standings.
Regions Field, Birmingham
With a nod to the past but mindful of the present, Regions Field (1401 1st Ave. S; 205-988-3200) is a great ballpark to catch a game. It is not historic in age, but full of history nonetheless. This is where the Barons relocated after leaving Rickwood Field. The architects responsible for the stadium's design drew inspiration from Birmingham's baseball heritage, the Civil Rights Movement and the city's steel mills. The front entrance features brick and steel, both a reminder of the city's manufacturing past.
Don't Miss: The Negro Southern League Museum, Birmingham The Negro Southern League Museum(120 16th St. S; 205-581-3040), located within 10 miles of Region Field, tells the story of black baseball in America through the eyes of Birmingham and showcases the black baseball experience from the 1870s to the present. It features the largest collection of original Negro Southern League baseball artifacts in the country, including a game uniform worn by legendary pitcher Satchel Paige, a bat dubbed as "Big Bertha" that was used by Louis Santop, and more than 1,500 autographed baseballs, among other items. Visitors can walk through the museum and learn about the legacy of such greats as Jackie Robinson who integrated Major League Baseball and teams such as the Black Barons, Birmingham Barons and the Southern League. The museum features exhibit space for special events, a rooftop restaurant and a gift shop.
Tip 1: Take out your selfie sticks, cellular phones, and say cheese! Unlike many museums, flash photography is encouraged at the Negro Southern League Museum.
Samford Stadium-Hitchcock Field at Plainsman Park, Auburn
Southeast of Birmingham lies Auburn and the college baseball stadium where the Auburn University Tigers play. Plainsman Park (392 S. Donahue Dr.; 334-844-4750) saw its first pitch in 1950; since then it's been renovated and renamed more than once. A 1996 redo, gave it the qualities of major league stadiums. Specifically, it added a brick backstop like the one at Wrigley Field, dark green chairback seats similar to those at Camden Yards and a Green Monster twin of the left field wall in Fenway Park.
A year later, in honor of Jimmy and Billy Hitchcock, two of Auburn's most notable athletes from the 1930s who went on to coach college baseball and manage major league teams, the ballpark became known as Hitchcock Field at Plainsman Park. In 2003, Samford was added in honor of longtime university trustee Jimmy Samford.
Tip 2: While in east Alabama, you'll want to make your way to historic Toomer's Corner, where you can enjoy a glass of lemonade at Toomer's Drug and soak up the nostalgia that is uniquely Auburn.
Paterson Field, Montgomery
Active since it opened in downtown Montgomery in 1949, 7,000-seat Paterson Field (1215 Madison Ave.; 334-240-4200) has seen its share of baseball teams. The first, the Montgomery Rebels, which moved from Cramton Bowl to Paterson Field in 1949, was a AA-class minor-league affiliate of the Detroit Tigers. It played in the Southeastern League from 1938–1950 and dabbled in some other associations before joining the Southern League from 1965-1980. Then it moved to Birmingham and became the Barons.
From 1985–2004, the stadium hosted the NCAA Division II Baseball Championship. The Montgomery Wings, an independent minor-league team, played at Patterson Field from 2001 to 2003. Since that time, it has been used by some university and high school teams.
Cramton Bowl, Montgomery
Before Paterson Field, Cramton Bowl (1022 Madison Ave.; 334-625-2300) welcomed Montgomery's baseball fans and teams. Fred Cramton, the stadium's namesake, donated the land and built the bowl for what was in 1922 a hefty $33,000. Auburn University inaugurated the field in May of that year against Vanderbilt University.
Over the years the stadium's seating capacity has expanded about five times. A past renovation raised it to 25,000. That same renovation also added a "Walk of Fame," which recognizes Montgomery's sports history, part of which includes Cramton Bowl's contributions to football. On September 23, 1927, the stadium became the first in the South to host a night football game with lights. The stadium made football history again in December 2014 when it welcomed the Camellia Bowl, an ESPN-owned bowl game pitting the Sun Belt against the Mid-American Conference. It takes place annually in December.
Riverwalk Stadium, Montgomery
Like Regions Field in Birmingham, Riverwalk Stadium (335 Coosa St.; 334-625-2100) near the intersection of Coosa and Tallapoosa streets is a modern ballpark with history integrated into its design. It was completed in 2004, seats 7,000 fans and offers views of the Alabama River. Most interestingly, architects incorporated a 100-year-old train shed into the stadium's build. In fact, six of the ballpark's 20 luxury suites are located along the first-base line inside this historic building. Ticket windows and concessions are housed here too. Trains still run behind the left field fence, adding a touch of nostalgia.
Tip 3: When not taking in a baseball game, you can spend time exploring downtown Montgomery. Located in close proximity to local attractions, such as the Hank Williams Museum and the Rosa Parks Museum, and anchored by the Amphitheatre, the Harriott II Riverboat, and the historic Union Station Train Shed, Riverfront Park provides a complete entertainment destination.
Eagle Stadium, Ozark
Southeast of Montgomery, off U.S. 231, remains a ballpark from the 1940s. Eagle Stadium (334-774-2618) dates to 1946. It housed the Ozark Eagles, a D class minor league team in the Alabama State League that played here until 1952, when it moved to Andalusia. The Los Angeles Dodgers eventually brought the franchise back to Ozark but it didn't stay long. In 2002, the Ozark Patriots debuted, but they folded in mid-season.
The ballpark remains today much as it did in the late 1940s, with bench seats and a covered grandstand. Although professional baseball is a thing of its past, high school and college leagues use the field. It's also listed on the Alabama Register of Landmarks and Heritage.
Hank Aaron Stadium, Mobile
I-65 leads from Montgomery to Hank Aaron's hometown, Mobile. The stadium (755 Bolling Brothers Blvd.; 251-479-2327) bearing his name is not that old, but you can't talk about Alabama baseball history without including this Major League star. Built in 1997, Hank Aaron Stadium hosts the Mobile BayBears, a minor league professional team in the Southern League. It seats 6,000 fans, some of who take advantage of several luxury suites available at field level. On opening day, Aaron threw out the first pitch and the BayBears retired his number 44.
In addition to honoring the player who hit more home runs than Babe Ruth and maintained quiet dignity in the face of racism, the stadium includes an area of commemorative plaques featuring the names of each Mobile native that's part of the Baseball Hall of Fame in Cooperstown, New York.
Where to Stay & Eat
Alabama boasts a number of great places for overnight stays as well as a myriad of wonderful places to eat. To find out more visit www.alabama.travel to request a free vacation guide or download the 100 dishes to eat in Alabama before you die brochure.
Don't Miss