Gulf Shores and Orange Beach: Spring Break at the Beach
by Edith Parten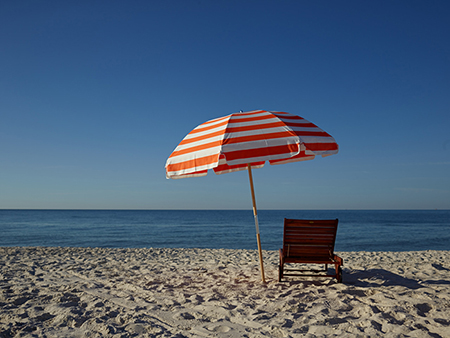 Pack the car and head down I-65, U.S. Hwy. 231 or across I-10 and down to Alabama's beautiful white sand beaches. You can soak up the sun on 32 miles of sugar-white sand beaches, see exotic animals at the world famous "Little Zoo That Could" or hop on an eco-cruise to watch dolphins play.
The beach communities of Gulf Shores and Orange Beach offer visitors a wide variety of fun, and this road trip is sure to be a vacation that will leave you coming back for more. It's the perfect getaway for spring break or a family-friendly vacation.
Kick Back at The Hangout
As you drive south on Gulf Shores Parkway (AL Hwy. 59) and arrive at AL Hwy. 182, the scenery of the beaches and the smell of the ocean breeze will leave you wanting to hop out of your car and run to the white sand beaches. There is public beach access here, so you can do just that at one of the most popular places on the beach,
The Hangout
(101 E. Beach Blvd., Gulf Shores; 251-948-3030). Here, you can grab a bite to eat and the kids can play at The Hangout by building sand castles in the play area and getting lost in the suds with a bubble machine. The casual dining area is open so that you can feel the Gulf breeze, and the outdoor bar features live music. The restaurant is open for lunch and dinner and offers seafood, burgers, sandwiches and salads. It's a great place to take the family and a great place to relax, play, have a bite to eat or just hang out.
The Hangout restaurant sponsors the annual Hangout Music Fest each May. Hangout Fest has become one of the most popular events for Alabama residents and visitors alike, featuring acts such as the Dave Matthews Band, Red Hot Chili Peppers, Foo Fighters, Cee-lo Green, Paul Simon, Widespread Panic and more. The three-day event takes place right on the beach in Gulf Shores.
Gulf State Park, Gulf Shores
From The Hangout, travel east on AL Hwy. 182 to get to
Gulf State Park
(20115 AL Hwy. 135; 251-948-7275) where you'll find 3.5 miles of beaches, 6,152 acres of nature to enjoy, the second longest fishing pier (1,540 feet) on the Gulf of Mexico, and plenty of water to help you stay cool.
Renovations to Gulf State Park, completed in 2019, created a 350-room lodge, added almost 10 miles of trails for biking and hiking and restored enough sugary-white sand dunes to cover the equivalent of 50 football fields, while constructing some of the most environmentally advanced accommodations in the Southeast.
The Lodge at Gulf State Park, a Hilton Hotel features a beach-view ballroom with an outdoor terrace, a Gulf-front pool with a bar and grill, a Gulf-front restaurant with terrace seating and a private dining room that serves house-prepared locally sourced dishes, including fresh Alabama Gulf Seafood. The Lodge also offers guests access to 28 miles of educational hiking and biking trails, a nature center, outdoor classrooms, an interpretive center, tennis, kayaking, guided nature walks, a butterfly garden, forestland and beach pavilions.
The coastal scenery and smell of the ocean breeze will leave you wanting to hop out of your car and run to the white sand beaches.
See Flipper and His Friends
For a special experience you won't soon forgot, you'll want to take a dolphin cruise. A variety of outfitters offer tours of the Intracoastal Waterway.
Dolphins Down Under (27264 Perdido Beach Blvd., Orange Beach; 251-968-4386) offers glass-bottom boat dolphin tours. They also offer a variety of activities like snorkeling aboard a 45-foot glass-bottom catamaran, and glass-bottom kayaks are available.
Southern Rose Parasailing and Dolphin Tours (27212 Marina Rd., Orange Beach; 855-524-8837) offers daily cruises aboard a 64-foot boat with a comfortable double-deck and air conditioning. Sunset dolphin cruises are available for private parties.
Blue Dolphin Cruises (29603 Perdido Beach Blvd., Orange Beach; 251-981-2774) offers dolphin sightseeing tours on a 51-foot, seaworthy, heated/air-conditioned bi-hull boat with inside and outside seating, gift shop and snack bar.
Off-the-Beach Family Fun
A must-visit is the
Alabama Gulf Coast Zoo
(1204 Gulf Shores Pkwy., Gulf Shores; 251-968-5732).It became known as "The Little Zoo That Could" on the Animal Planet channel after surviving its former coastal location being flooded by Hurricane Ivan in 2004. The zoo's animals had to be evacuated and then it took more than a year to rebuild so the zoo could open again. It now has a new, much larger location inland at Oak Road East, north of the Intracoastal Waterway in Gulf Shores. The new zoo has triple the space to explore, and the animals have larger habitats. The new location includes around 500 animals, 188 species and the full-service Safari Club restaurant, the only restaurant in Alabama certified by the Green Restaurant Association.
Visit the Bon Secour National Wildlife Refuge (12295 AL Hwy. 180, Gulf Shores; 251-540-7720), a short drive from the beaches down Fort Morgan Road. The refuge consists of nearly 7,000 acres of coastal lands with plants, flowers and animals native to the area. It's open during the day for hiking, fishing, bird watching and enjoying nature. You can walk along a variety of trails such as Gator Lake Trail, Centennial Trail, Jeff Friend and Pine Beach. The trails range from one to four miles.
For a little speed, fun and adventure head to the Waterville USA Park (906 Gulf Shores Pkwy./AL 59, Gulf Shores; 251-948-2106). Experience daring water slides, enjoy mini golf and race around a small track in go-carts. All ages are welcome at this 20-acre water park. It also has Escape House Waterville with 2 different game rooms.
Take a ride or walk along the Hugh S. Branyon Backcountry Trail (4009 Orange Beach Blvd., Gulf Shores; 251-981-1180) in Orange Beach. Tour guides will take you along the paved trail that winds through moss-lined trees, flora and fauna native to Alabama's Gulf Coast. You might even run into the Cat-Man, a legendary wild man that is purportedly half cat and half man.
Visit the Orange Beach Arts Center Hot Shop (26389 Canal Rd., Orange Beach; 251-981-2787) to take home a great souvenir from the beach. You'll find jewelry, paintings or a variety of other crafts in the shop. You can even make your own piece of glass art in the shop by signing up for an art class or purchase a piece of glass art in the gallery. The Hot Shop is one of the only public access glass studio in Alabama.
Drive a short distance inland to hop on the Southeast's tallest Ferris Wheel at The Wharf (23101 Canal Rd., Orange Beach; 251-224-1000) for a ride with a view. You'll be 120 feet high above the Intracoastal Waterway in Gulf Shores with views of scenic wetlands and a marina. The Wharf is an entertainment area with a 9,500-capacity amphitheater, boutique shops, restaurants and accommodations.
Where To Eat
You've probably heard the Jimmy Buffet song "Cheeseburger in Paradise," but have you actually tried one? It's on the menu at his sister's restaurant in Gulf Shores,
LuLu's at Homeport Marina
(200 E. 25th Ave., Gulf Shores; 251-967-5858), located on the Intracoastal Waterway. Also try the wild shrimp and L.A. Caviar on the menu. The main ingredient is black-eyed peas. The family atmosphere provides loads of fun activities for kids and there's live music nightly. Small kids will love playing in the sandy beach area while the Mountain of Youth ropes course is geared toward older kids. The ropes course sits high above LuLu's and is a three-story climbing tightrope apparatus.
Have a doggone good dinner at the pet-friendly Cosmo's Restaurant and Bar at Fish Camp Landing in Orange Beach (25753 Canal Rd., Orange Beach; 251-948-9663) where the Banana Leaf Wrapped Fish is divine and listed in the "100 Dishes To Eat In Alabama Before You Die" brochure. The owners named their restaurant after a shelter dog they rescued. The eatery is decorated with paintings and artwork of four-legged friends.
King Neptune's (1137 Gulf Shores Pkwy., Gulf Shores; 251-968-5464) seafood restaurant is known as the place to go in Gulf Shores when you want royal reds. These delectable treats are deep-water shrimp from the Gulf of Mexico that are a gorgeous ruby red with a sweet taste. They are special treats for those who love shrimp – sweet and salty, moist and tender, and in a class by themselves. They are served with their shells and heads still attached.
At the end of the Alabama portion of Hwy. 182, stop at the Flora-Bama (located right on the Alabama and Florida line on Hwy. 182 and Hwy. 292 at 17401 Perdido Key Dr.; 251-980-5118) for lunch during the day or enjoy live music at night when the bar is restricted to adults. A roadside icon since the 1970s, this lounge, package store and oyster bar sits on the Alabama/Florida state line. It's considered one of the last great roadhouses. Nightly entertainment includes live bands offering country, blues, rock and beach-style music. They are open for lunch, dinner and nightly entertainment. They welcome families during the day, then after 6:30 p.m. you must be over 18 to enter.
Where To Stay
With more than 18,000 rooms, Gulf Shores and Orange Beach have a variety of places to stay, from hotels and condos to beach houses. Visit www.gulfshores.com/lodging to help you find a place to park your flip-flops for the night.
Don't Miss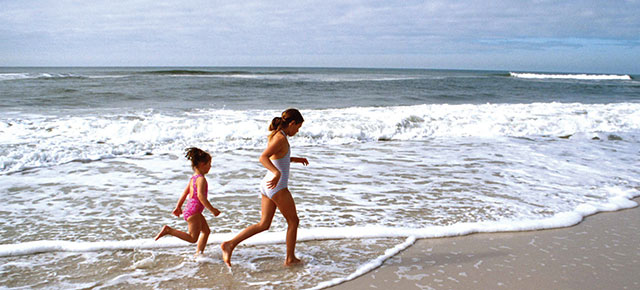 Picturesque Gulf State Park
The renovations have made the park, which has eight distinct ecosystems and both beach and forest ecologies, a coastal classroom, including a learning campus with classrooms, research facilities and even visitor dorms. A nature center within the campground and an interpretive center on the beach inspire families to take their own self-guided tours of the trails.
The pier is open for fishing 24/7 on weekends. You should check the website for hours as they change seasonally. The beach around the pier is a great place to look for seashells or build a sandcastle. A snack shop, picnic tables and restrooms are located on the pier.
You can fish from the pier as long as you have a state fishing license. One is required for anyone 16 years and older; however, Alabama residents over 65 do not need a license.
From the pier, the Gulf State Park Pavilion is open to the public and is a five-minute drive east on AL Hwy. 182. The pavilion is great for family get-togethers and special events and is open to the public from 7 a.m. until sundown. There is a fee for parking.
The state park continues across AL Hwy. 182 with roads leading to Lake Shelby. You will find a picnic area, golf course, camping store and trails. Other activities to enjoy include tennis, swimming, boating, fresh and saltwater fishing, skiing and other outdoor recreation.
If you want to spend the night at the state park, besides the lodge, you can stay at
Eagle Cottages, one of 60 properties worldwide honored with a Unique Lodges of the World designation because of their strong commitment to sustainable tourism, or at any of 20 cabins – all within walking distance of the golf course and 2.5 miles from the beach. The cottages book up early for the peak season. Both the pier and the cabins are currently closed for renovations after being damaged by Hurricane Sally, but are expected to re-open by late 2021.