Marion and Greensboro: Interesting People, Places and Food
by Grey Brennan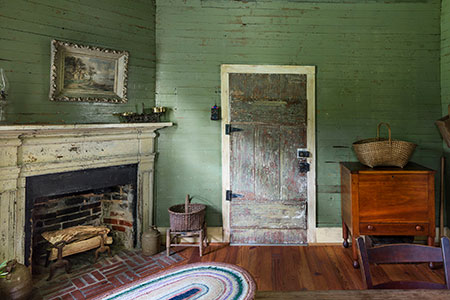 Alabama's Black Belt region, so named because of its rich black soil, cuts a swath across the state that encompasses 22 counties, including Hale and Perry. Greensboro the county seat of Hale County, boasts several National Historic Register sites, including a house museum honoring a hero of the Spanish-American War – Richmond Hobson. Standing guard over the town is a tall water tower proclaiming Greensboro's proud heritage as the "Catfish Capital of Alabama." Also downtown is a unique restaurant and local enterprise called Pie Lab, and in nearby communities are Rural Studio buildings, including the small Boys and Girls Club II in Akron, which has been listed in some of the country's top magazines as one of the most beautiful buildings in the world.
In Marion the county seat of Perry County, you'll learn that this town is the site of the former Judson Female Institute (now Judson College) founded in 1838. Marion is also home to the once all-male Marion Military Institute established in 1842, and the town is also the birthplace of civil rights pioneer Coretta Scott King.
When you follow this road trip from Marion to Greensboro, you'll discover the historical and cultural richness of these two Southern towns. You'll visit antebellum mansions, explore the outdoors on a birding adventure and walk in the footsteps of civil rights leaders. You'll also meet newcomers who have opened quaint downtown shops, cafes and bookstores and who are now sharing their stories and culinary delights with visitors.
Take in Some Early Morning Bird-Watching
The best way to begin your road trip is with a bird-watching adventure in Marion just after sunrise when the Perry Lakes Park & Barton's Beach Cahaba River Preserve opens to visitors. For the best bird viewing, climb to the top of the 100-foot birding tower at the park. From this height, you will be above the tree canopy. The park comprises four swampy oxbow lakes, formed when the Cahaba River changed its course 150 years ago.
To get to the birding tower, you will first walk over a covered pedestrian bridge and then along a raised boardwalk that takes you by moss-covered trees and slightly over one of the swampy oxbow lakes. This is a short and very scenic walk. In the opposite direction of the parking lot is a quarter-mile walk to Barton's Beach Cahaba River Preserve with a spectacular view of the Cahaba River.
Perry Lakes Park can be hard to find. Travel AL Highway 175 a few miles north of the AL Highway 14 intersection and look for the Aquatic Biodiversity Laboratory, which is marked by a sign on its building. Slow down and turn as if you were going to stop at the laboratory. You will find a road alongside the laboratory's parking lot. One hundred yards down the drive, you will see the Perry Lakes signs. Take the single-lane gravel road for approximately one mile until you reach a parking area.
Before you get back in your car, be sure to go inside the three unusual restrooms at the parking lot to see how light, nature and architecture can blend. These facilities, the birding tower and boardwalks and restrooms were designed by students in the Auburn Rural Studio program.
Experience Historic Marion
From Perry Lakes travel to Marion, home to both the Military Hall of Honor, located on the campus of Marion Military Institute (1101 Washington St.; 334–683–2302), and the Alabama Women's Hall of Fame, located at Judson College (302 Bibb St.; 334–683–5100 or 334-683-5167). While in the area, drive around town to spot the beautiful St. Wilfrid's Episcopal Church (104 Clements St.; 334–683–6562) and historic First Congregational Church (601 Clay St.; 334–683–8111). First Congregational Church was organized in 1871 by freed slaves. St. Wilfrid's cemetery includes graves of both Confederate and Union soldiers.
Judson College, the fifth oldest women's college in the nation, is located just one block from the courthouse square. The campus is also home to several state champion trees, including Leland cypress, Japanese flowering cherry, English oak and Japanese evergreen oak.
Park your car along the square in one of the many free parking spots. Look for Zion United Chapel's Methodist Church on Jackson Street. The Civil Rights Freedom Wall is a large black granite marker in front of the church honoring the many freedom fighters in Perry County, including pioneer Coretta Scott King who was born in Heiberger, a small settlement 10 miles north of Marion, on April 27, 1927. One of the other names listed is that of Jimmy Lee Jackson. He and others were attending a civil rights rally at the church on the night of February 18, 1965, when an Alabama state trooper shot him.
The Judson College campus is home to several state champion trees, including Leland cypress, Japanese flowering cherry, English oak and Japanese evergreen oak.
Walk around to the back of the church and look for a much smaller bronze plaque in the parking lot next door where Mack's Cafe once stood. This is where Jackson and his family fled after they had peacefully exited the church only to be met with hostile reactions from police and other law enforcement, including the trooper who shot the unarmed Jackson. Although the location is easy to find, the plaque can be missed if you are not looking carefully. Read the marker for more information about Jackson's death and the event that inspired the Selma-to-Montgomery marches, a major chapter in the American Civil Rights Movement of the 1950s and 1960s.
Enjoy a Taste of Marion
Return to the courthouse square in Marion and visit the unique restaurants in this quaint town.
Located in the downtown district, Swamp Fox Tavern (110 E. Green St.; 334-­683-­2121) is a historic brick building with an upstairs bar and balcony that overlook the courthouse square. Known for its juicy steak, Swamp Fox Tavern buys its ingredients straight from the farm, so freshness is guaranteed. The restaurant is open Thursday through Saturday for dinner and the first Sunday of each month for brunch.
While Kalico Kitchen (12310 Hwy. 5; 334-683-6739) is not located in the heart of downtown, the plentiful portions and tasty buffet meals make it worth a drive. If you like good down-home Southern cooking and friendly service, this old-school country cafe is the place to be. The eatery is known for its buffet offerings for breakfast (eggs, bacon, biscuits, grits, hash browns) and lunch (pan-fried chicken, collard greens, sweet potatoes, cornbread).
Take a detour from the main road and visit The Shack (20555 Hwy. 183; 334-683-8966), a hole-in-the-wall local favorite. It has a roadhouse atmosphere and is a great place to hang out and enjoy dinner and drinks. The bar food is top-notch, and the hot wings, crab claws and juicy cheeseburgers are not be missed. It's all about food and fun at The Shack!
Located in a historic building, Camellia Ridge (321 Washington St.) sells new and estate furniture.
At the bookstore As Time Goes By, you can buy a book, have a cup of coffee and some pie and even listen to records.
Down the street is the town's bookstore and coffeehouse, As Time Goes By (418 Washington St.; 334–683–6757). At the bookstore As Time Goes By, you can buy a book, have a cup of coffee and some pie and even listen to records from the 1920s through the 1960s. The store opens only on select days and the hours are limited, so call ahead.
Also on Washington Street is the Marion-Perry County Library.
There are several antique stores on or near the square. As is the tradition in many small towns, most are closed the first couple days of the week and open the latter part of the week.
Just a block away from the square is Reverie (110 W. Lafayette St., 334-­683-­6320), a beautiful 1858 Greek revival home open for tours. While it is best to call a day ahead, attendants will try their best to accommodate a tour for a group or individual even on short notice.
The Perry County Historical and Preservation Society has its own museum, open by appointment only, inside the Marion Female Seminary Building (204 W. Monroe St., 334-683-6336).
Information on other attractions in Perry County can be found at the Old Marion Depot that serves as a visitor information center and home to the Perry County Chamber of Commerce (1200 Washington St.; 334–683–9622).
See a Working Plantation
Seven miles west of Marion on AL Highway 14 is the site of one of Alabama's last active plantations, the Moore-Webb-Holmes Plantation (AL 14, Folsom; 334–683–9955). The land has been passed down for generations from William Moore, who came to Alabama and homesteaded the original 80 acres in 1819 shortly before Alabama gained statehood. Now operated by the sixth-generation descendants, the farm offers tours, which not only take you back in time, but also showcase the family's current practices of producing grass-fed beef, organic gardening and self-sustainability. While there is not a big white plantation home on the tour, most of the buildings are original to the site and include a log house, plantation store and tenant quarters. Call ahead for a group or individual tour.
Visit Historic Greensboro
From Marion travel to Greensboro to visit PieLab (1317 Main St., 334–624–3899). This café located in the heart of downtown Greensboro and started by the HERO organization uses locally grown fruit in innovative recipes. PieLab teaches youths how to make pies, and then sells slices of their efforts. A small yet tasty menu allows you to have a wonderful lunch while watching passersby go in and out of buildings that line historic Main Street. PieLab has been featured in the New York Times, Southern Living and Garden & Gun. The success of PieLab launched another innovative store in Greensboro, HERObike. Here you could order a bike made with bamboo or make your own. Magnolia Grove (1002 Hobson St., 334–624–8618), a house museum located in Greensboro's historic district, honors Spanish-American War hero, Richmond Pearson Hobson. The 15-acre grounds and home are open most days and operated by the Alabama Historical Commission. The knowledgeable staff will gladly take you on a tour.
In small towns, many businesses are closed several days of the week or have shorter hours than would be the custom in the big city. Some establishments may be cash only. Call ahead to make sure the locations you wish to visit will be open on the day and time of your visit.
The home is a relatively rare Alabama example of a full-scale pedimented temple-form two-story house in the Greek Revival style. This and other plantation-style homes combined with the avant-garde Rural Studio sites you can visit in nearby Akron and Newbern make for interesting contrast in architecture. Travel+Leisure magazine once named the small Boys and Girls Club II in Akron one of the most beautiful buildings in the world. A short distance away from Magnolia Grove is the Safe House Black History Museum (2404 Davis St.; 334–624–4228) featuring 1860 slave auction documents. The historic structure served as a safe haven for Dr. Martin Luther King Jr. and others during the Civil Rights Movement.
Where To Stay
There are two hotels in Marion located right next to each other: the Gateway Inn (1617 AL Hwy. 5; 334–683–9166) and the Sleep Inn & Suites (1605 AL Hwy. 5; 334–683–8600). Between Marion and Greensboro you can stay in the "overseer's" home on the Moore-Webb-Holmes Plantation in Folsom otherwise known as the Folsom Inn B&B (AL Highway 14, Folsom; 334–683–2848). In Greensboro, Blue Shadows Bed & Breakfast (11265 AL Hwy. 14; 334–624–3637 ) is a three-room secluded guesthouse and the Johnson-Torbert House B&B (1101 South St.; 334-352-5271) is beautiful federal-style home.
Take a Self-Guided Tour
Many stops on this road trip are included in a self-guided tour which can be enhanced by bringing your cell phone along to hear local people talk about their attractions and historical sites. Dial 334–526–3061 for sites in and around Marion and then enter the appropriate stop number that is listed at each location on the tour. A cell phone self-guided tour of the grounds of Magnolia Grove is available by calling 334–450–0130.
Don't Miss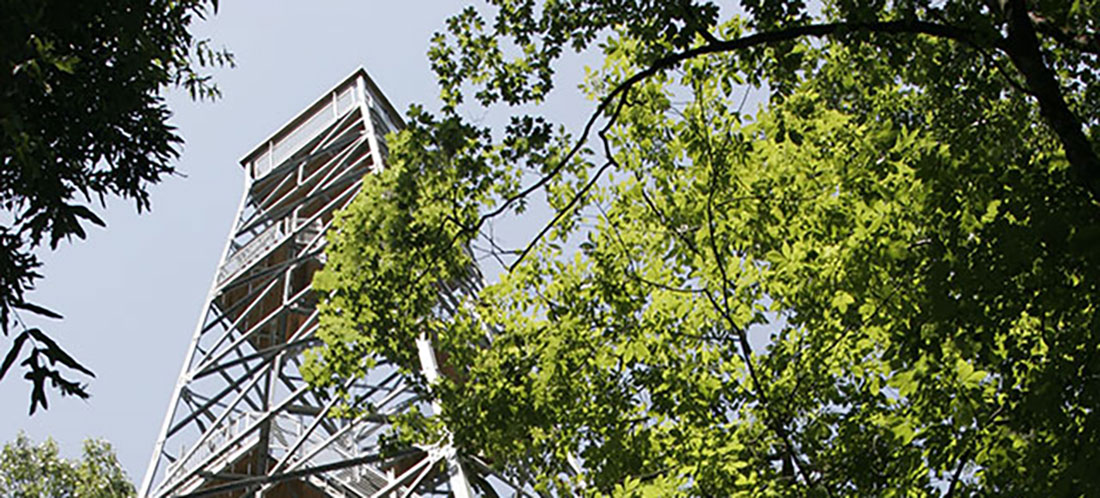 Perry Lakes Park & Barton's Beach Cahaba River Preserve
Take your adventure to the next level at Perry Lakes Park & Barton's Beach Cahaba River Preserve (AL Hwy. 175, Marion; 334-683-9622) This 700-acre outdoor recreation and environmental park is packed with beautiful scenery, wildlife and endless opportunities for adventure. Nature enthusiasts can enjoy a wide-range of activities, including hiking, birding, fishing, canoeing, picnicking and more.
If you're not afraid of heights, check out the 100-foot-tall birding tower accessible by the Ridge hiking trail. The tower gives you an aerial view of the park and the chance to see numerous bird and plant species native to this area. Prefer to stay on the ground? Check out Barton's Beach with its acres of gravel and sand bars, beaver ponds, swamps and floodplains that are home to countless animal and plant species.
Admission is free and the park is open daily from dawn to dusk.