Mobile: A Romantic Getaway
by Lee Sentell
Table of Contents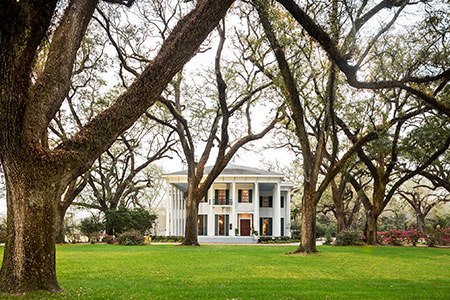 If you're considering a romantic getaway, put Mobile at the top of your list. This beautiful city alongside Mobile Bay is an original French settlement more than 300 years old, with spreading live oaks that create shady canopies over the downtown and the wrought iron balconies on historic mansions.
Residents don't really consider their city as part of Alabama, but rather as part of the Gulf Coast that stretches from New Orleans to Pensacola and Savannah. Because of the city's fascinating history, you'll find a number of museums and dramatic architecture that encourage strolls along broad sidewalks. The proximity to the Gulf of Mexico puts fresh seafood on most menus.
As you'll discover when you visit, everything about Mobile is steeped in history, so a Cliff's Notes about the origin of Mobile's Mardi Gras is in order. Although some forms of religious celebrations leading up to Lent began in the 18th century, Michael Krafft led a rowdy bunch of friends on New Year's morning in 1830 that evolved into an annual celebration with parades that lasted until the Civil War. The city was occupied by Union troops after the war and the celebrations ceased. On Shrove Tuesday in 1866, town market clerk Joe Cain dressed up like a Chickasaw Indian and drove a charcoal wagon through the streets while singing. His merry portrayal of Chief Slacabamorinico was a political statement aimed at the Union army troops because the Chickasaws had never been defeated in battle. Cain returned the following Shrove Tuesday with a band of off-key musicians, whose antics eventually caught the fancy of Mobile society who organized and refined the event. By 1872, Carnival had its first monarch, King Felix, and the formal balls and parades were staged by the leading social clubs.
Joe Cain died in 1904 and his epitaph in the Church Street Graveyard (251-208-7411) reads, "Here lies old Joe Cain, the heart and soul of Mardi Gras." Each year, the Sunday before Mardi Gras is celebrated here as Joe Cain Day, when numerous "Cain widows" lead mourners to his grave. You can pay homage to Joe Cain daily by having a drink in the bar named for him at the Battle House hotel.
Joe Cain's residence still stands in the historic district that surrounds Oakleigh Mansion (300 Oakleigh Pl.; 251-432-6161), a lovely raised cottage-style home built in 1833. Cain's home, a private residence, is at 906 Augusta.
Michael Krafft is not forgotten either. Modern-day Mardi Gras revelers head for Magnolia Cemetery (1202 Virginia Street; 251-432-8672) to pay their respects and scatter plastic trinkets on his grave. His obelisk marker with symbols of the Cowbellion Society is at the southeast corner of square 6. (To reach the historic cemetery, turn south off Government Street to Ann and go a mile to the entrance on your left.)
Where To Stay
Mobile offers 7,500 rooms with lodging options to fit every budget. Located just steps from Mobile's entertainment district and downtown attractions is the
Battle House Renaissance Hotel and Spa
(26 N. Royal St.; 251-338-2000) which has been a favorite of celebrities, sports legends, a president and a king since 1852. Completely restored to its original grandeur, this AAA-rated, four-diamond hotel offers The Trellis Room, Mobile's only four-diamond restaurant; a magnificent ballroom; and a 10,000 sq.-ft. spa.
The Renaissance Mobile Riverview Plaza Hotel
(64 S. Water St.; 251-438-4000) is perfect for conventions, stylish social gatherings or weekend escapes. Enjoy dining in the Harbor Room or listening to live music in Fathoms Lounge. A luxury hotel with 170 guest rooms, the
Admiral Hotel
(251 Government St.; 251-432-8000)opened in 1940 and has hosted stars like Bob Hope and Elvis Presley.
Because of the city's fascinating history, you'll find a number of museums and dramatic architecture that encourage strolls along broad sidewalks.
Explore Historic Sites
After checking into your hotel, head for the recreated Fort Condé (150 S. Royal St.; 251-208-7569) that Mobile now uses as its official welcome center. The foundations were uncovered during construction of an I-10 interchange and the French fort was rebuilt during the U.S. Bicentennial in 1976. Costumed guards give tours and explain the history of the city.
A few steps away from Fort Condé is a museum that will help you understand Mobile. City government moved from the 1857 City Hall into the modern building nearby and made room for the History Museum of Mobile (111 S. Royal St.; 251-208-7569) in time for Mobile's tricentennial in 2003. Some of the notable exhibits found in the museum include a 700-year-old canoe, a model of the Confederate submarine H. L. Hunley, a large terra cotta statue of a French peasant raising the torch of freedom, and tributes to hometown heroes Admiral Raphael Semmes, captain of the famed CSS Alabama; baseball legend Hank Aaron, and Joe Cain, the Mardi Gras booster.
The museum that many visitors remember from their trip is the Mobile Carnival Museum (355 Government St.; 251-432-3324), or what most people call "the Mardi Gras museum." The main difference is Mardi Gras is only one day (Fat Tuesday) whereas carnival is the social season of galas and parades that leads up to the day before Lent starts. This is a showcase of glittering, handmade coronation costumes that denote the social status of the most important families dating back to Old Mobile. Fur-lined trains and crowns that date back to the 1860s fill gallery after gallery.
Bellingrath Gardens and Home
(12401 Bellingrath Gardens Rd.; 251-973-2217), located 20 miles southwest of Mobile off I-10, was the creation of Walter and Bessie Bellingrath, local philanthropists who opened their gardens to the public year-round beginning in 1934. As described by Mr. Bellingrath, "The Gardens are like a beautiful woman with a different gown for each week of the year." With the blooming of the camellias in winter, the azaleas in spring, roses in the summer, chrysanthemums in autumn and the fabulous Magic Christmas in Lights during the holiday season, the 65-acre estate is a parade of beauty throughout the year. In addition to strolling through the gardens, you can tour the elegant home, explore the gift shop and dine in the Magnolia Café. You can also experience the scenic beauty of Fowl River aboard the Southern Belle River Boat and enjoy regular activities on the Great Lawn.
Throughout the Mobile area you'll find plenty of opportunities to make memories, so be sure and take your camera along, especially if you are visiting Bellingrath in the spring. This is when the azaleas are at their peak and absolutely stunning, they'll take your breath away.
Stepping Out in Mobile
Mobile offers a variety of culinary options stretching from one end of the city to the other. Located near Battleship Memorial Park on the Causeway between the Eastern Shore and Mobile, is the Original Oyster House (3733 Battleship Pkwy.; 251-626-2188) which first opened its doors in Gulf Shores in 1983. The Causeway location opened in 1985. Among other restaurants, you will find Ed's Seafood Shed, (3382 Battleship Pkwy.; 251-625-1947), home of "Yo Mamma's Platter," and Felix's Fish Camp (1530 Battleship Pkwy.; 251-626-6710). Felix's is a great stop for lunch or dinner and the crab soup is delicious.
In downtown Mobile is the Spot of Tea (310 Dauphin St.; 251-433-9009). This famous spot in Cathedral Square is an excellent choice for breakfast, lunch or dinner. The Eggs Cathedral and strawberry lemonade are two items you should definitely try.
Wintzell's Oyster House (605 Dauphin St.; 251-432-4605) is also a downtown Mobile landmark. Located on historic Dauphin Street, the small Alabama chain has been serving fresh seafood here since 1938. Though known for its oysters – fried, stewed or nude – they also serve shrimp, fish, crab, crawfish and gator tails for die-hard seafood lovers.
If you are worried about what to do when many of the local restaurants have shut down for the day, don't fret. You can keep the party going at night with a visit to hot spots like Veet's Bar and Grill (66 S. Royal St.; 251-694-3090). They open early, stay open late and offer great appetizers, drinks and wonderful after-hours entertainment.
For a list of additional lodging and dining options and other things to see and do in the Mobile area, visit www.mobile.org.
Don't Miss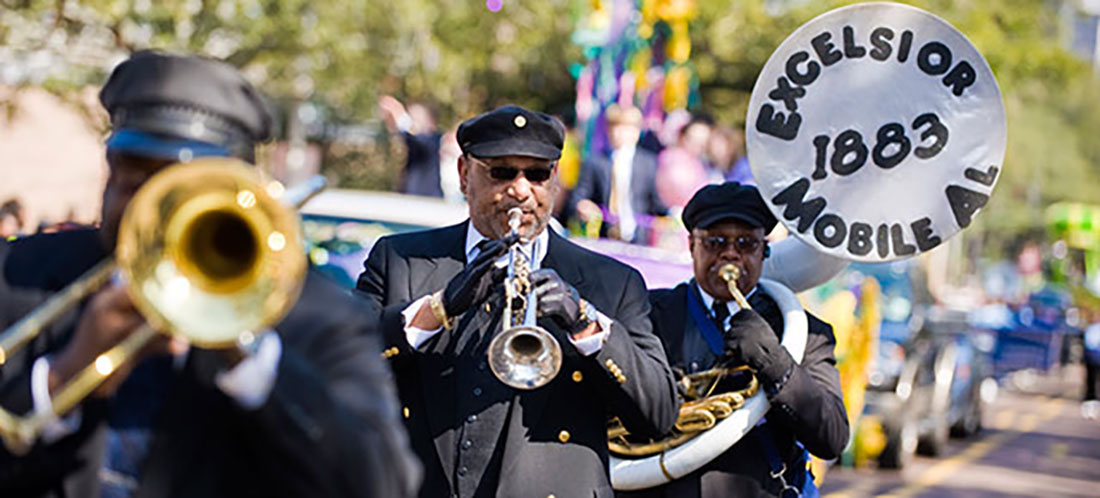 Football and Mardi Gras
The period from New Year's Eve to the beginning of Lent is the best time to visit, because the semi-tropical climate coaxes camellias and azaleas to bloom while the rest of the Deep South is still chilly. Plus, there are football games, parades and parties in significant numbers. The National Football League practically takes over the city's hotels in January during the week leading up to the Senior Bowl (Ladd-Peebles Stadium; 251- 432-4109), a showcase game where college all-stars try to impress NFL scouts.
Mobile is the original home of Mardi Gras (251-208-2000) in the New World, from a celebration in 1703 (Saint Louis Day on Aug. 25) that evolved in 1840 to today's parades by krewes or social clubs. Two prominent Mobile businessmen who moved to New Orleans in that era took the concept of parades and balls to the Crescent City.
Unlike the bawdy Bourbon Street festivities, Mobile's two weeks of parades are much more family friendly, suitable for all ages. Revelers on the parade floats throw plastic beads, but also Moon Pies, the marshmallow snacks baked in Chattanooga. That explains the giant Moon Pie on the corner of one of the tallest office buildings that is "counted down" at midnight on New Year's Eve as locals and tourists cheer.
For family-friendly viewing of Mobile Mardi Gras parades, stand on Church Street near Fort Condé. Royal Street is also a good area near many downtown hotels and restaurants, as well as Bienville Square. For a more "adult" experience, you can catch a parade near its end at Dauphin and Washington streets, which provide easy access to local bars.