Opelika: Small City, BIG Impression
by Patricia Butts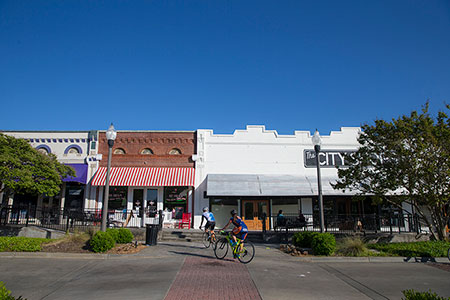 Folks who live in Opelika will tell you that their hometown is a special place, offering all the graces of Southern hospitality, history and culture with a mix of modern innovation, revitalization and progress. As you enter the city limits off Exit 60, a billboard reads "Opelika, You're Going To Love It." And you will. There is a peacefulness that fills this iconic Southern town and gives you permission to slow down and enjoy all of what it has to offer.
The city is conveniently located in east-central Alabama along the I-85 corridor between Atlanta and Montgomery and adjacent to the college town of Auburn. From its beginnings as a mere railroad town, Opelika has become a regional hub for commerce and was ranked No. 10 – along with Auburn – on the list of "Best Small Cities for Jobs" by Forbes in 2013, yet it retains its small-town charm.
On this road trip, be prepared to experience a historic downtown bustling with unique boutiques, consignment shops and ideal dining destinations. Get outdoors at local parks or enjoy a round of golf on the Robert Trent Jones Golf Trail at Grand National. Visit during the Christmas holidays when Opelika showcases some of its most beautiful homes and welcomes guests to the Victorian Front Porch Tour and the "Christmas in a Railroad Town" celebration.
Explore Historic Downtown Opelika
Historic downtown Opelika is flourishing as a popular city center for work and play. The Courthouse Square features a beautiful fountain centered on a city block of lush green lawn flanked by park benches for relaxing. Activities on the square include a farmers market, Noon Tunes and a variety of holiday celebrations.
Downtown offers a variety of specialty shops, boutiques, antiques and consignment stores, galleries and restaurants. Stop at O Town Ice Cream (700 2nd Ave.; 334-737-5700) for lunch or a sweet treat. Ice cream flavors are named after the people and places in their small town, telling the story of Opelika.
Wakefield Home (201 S 8th St; 334-203-1513) is an interiors and lifestyle boutique, offering antiques, furniture, fine accessories and interior design services. They have plenty of items you won't find anywhere else.
For upcycled deals, visit Fringe Consignment Boutique (125 S. 8th St.; 334-705-6727), one of the largest consignment shops in the state of Alabama. And for a unique signature gift, walk just around the corner to Southern Crossing. Getting hungry? Cakeitecture Bakery (124 S 8th St.; 246-3002) is the perfect answer to your sweet tooth. Items can be preordered for a special occasion or family get-together.
The John Emerald Distilling Company (706 N. Railroad Ave.; 334-294-6505) is one of the newest members of the downtown family. It is a fully functioning distillery producing gin, whiskey and rum. Tours are offered daily to visitors, and reservations can be made online.
Park It – and Relax
Opelika boasts access to several beautiful parks, including Chewacla State Park in Auburn and Opelika Municipal Park. There are tennis courts, picnic and playground areas, and lots of trails for exploration throughout these green spaces.
Located right off I-85 at Exit 51, Chewacla State Park (124 Shell Toomer Pkwy., Auburn; 334-887-5621) offers camping facilities and cabins for families or large groups. Miles of nature trails run along the creeks and through the hills of this 696-acre park. Bring your mountain bike and enjoy 15 miles (and growing) of new single-track trails perfect for beginners and advanced bikers alike. Chewacla also features a 26-acre lake for swimming, fishing and boating.
Opelika Municipal Park, located across the street from the Opelika Recreation Center on Denson Drive, features a covered bridge and the Rocky Brook Creek that flows into the Tallapoosa River. This lovely setting is the perfect place for a picnic lunch or a peaceful walk. The parks, with covered shelters, gazebos and grill areas, cater to family celebrations and can accommodate several parties at once. These green spaces also are suited to inspire the artist, writer and nature or sports enthusiast in us all. Leashed pets are encouraged.
For the Golf Aficionado
Come see why Golf Digest listed Grand National on the RTJ Golf Trail as one of "America's Best Public Golf Courses."
Opelika is home to the
Robert Trent Jones Golf Trail at Grand National
(3000 Robert Trent Jones Trail; 334-749-9042). Host to a number of national tournaments, the 54-hole site features three courses with scenic vistas, a driving range and putting green. Built on 600-acre Lake Saugahatchee, the course is rated among the top 10 in Golf Digest's list of "America's Top 50 Affordable Courses." The magazine also named the Auburn-Opelika area the "No. 1 Golf Destination in the United States." Rentals and lessons are available.
Dining & Night Life
When evening falls, Opelika continues to charm and entertain. On Wine Down Wednesdays at the Event Center, you can enjoy wine selections at half price with complimentary snacks. Take in live music or karaoke on a variety of nights at the Irish Bred Pub (833 S. Railroad Ave.; 334-363-2235) and Niffer's at the Tracks (917 S. Railroad Ave.; 334-787-5989). Several restaurants offer outdoor dining in a family-friendly environment. Parking is free and ample.
When to Visit
If you are interested in exploring the history and culture of the Opelika area, you may want to plan your visit during non-football weekends in Auburn. Hotels book up fast, and traffic in and out of these east Alabama towns is usually congested. For a complete list of lodging and dining options in the Auburn-Opelika area and for other things to see and do, visit the Auburn and Opelika Tourism Bureau's website or call 334-887-8747.
Where to Stay
After a day of shopping, discovering great finds and fun in the sun, spend the night at the Auburn Marriott Opelika Hotel & Conference Center at Grand National (3700 Robert Trent Jones Trail; 334-741-9292). Tucked away on 2,000 acres of lakefront grounds, the hotel and conference center overlooks the award-winning Robert Trent Jones Golf Trail and is on par with the nation's most distinctive facilities and accommodations. Guests love the spacious rooms, swimming pools, fitness center and on-site dining options. For a list of more affordable lodging for travelers on a budget, visit http://www.aotourism.com.
Don't Miss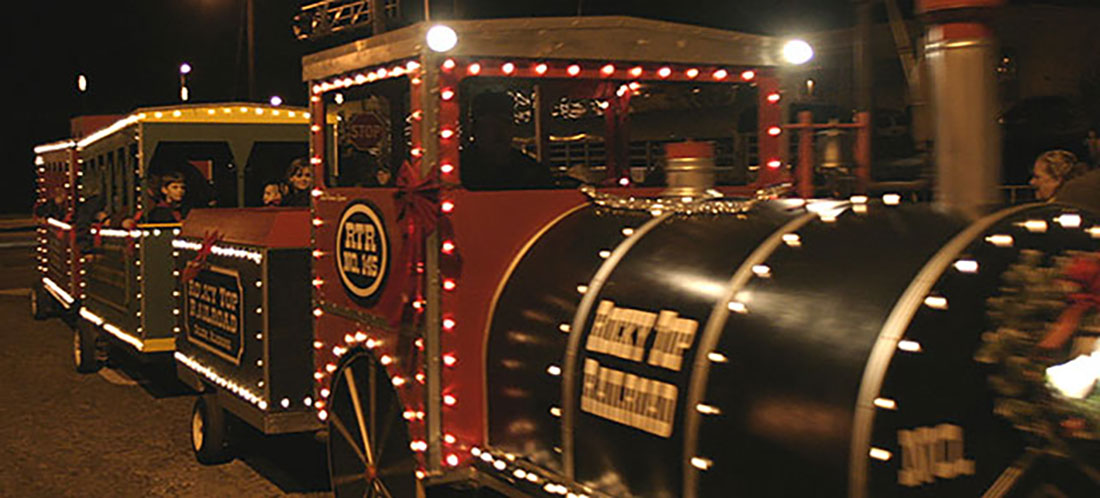 Victorian Front Porch Tour
Each Christmas season, Opelika's Northside Historic District celebrates like it is 1899. For five days in early December, 60 Victorian and historic homes near downtown Opelika are transformed into colorful, nostalgic reminders of Christmas from a simpler, slower-paced era. The homes are adorned with life-sized Santas, angels, toys, carousel horses and other Christmas-themed figures, as well as Christmas lights, bows and greenery. Featured in Southern Living, Better Homes and Gardens and Southern Lady magazines, the Victorian Front Porch Tour has been voted one of the Southeast's top tourism events for the month of December. The tour begins at North 8th Street and 2nd Avenue and encompasses more than 10 city blocks. Admission is free.