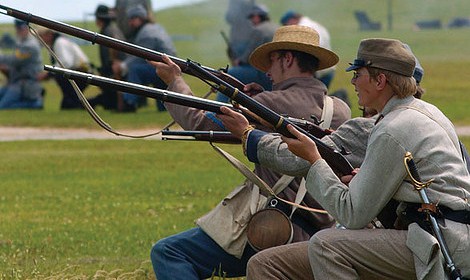 From the telegram ordering the first shot at Fort Sumter to the last major battle of the conflict, Alabamians played pivotal roles in America's Civil War and the shaping of the country as we know it today. In Marbury, Confederate Memorial Park is the site of Alabama's only state-operated Confederate veterans home, and the museum there showcases an extensive collection of uniforms, weapons and other memorabilia from Alabama's Confederate past. Along the coast, the Battle of Mobile Bay Civil War Trail spotlights Fort Morgan and historic Fort Gaines.
Many important Civil War battles were fought on Alabama soil, including the war's final major battle at Fort Blakeley. Nearly two dozen of these battles are reenacted annually in Alabama, including the Siege of Bridgeport, Battle of Selma, Campaign at Fort Morgan, Tannehill Skirmish, Fort Morgan Siege & Encampment and the Battles for the Armory in Tallassee.
In Montgomery, where the Confederate States of America was born in February 1861, you can stand on the spot where Jefferson Davis took the oath of office. You can also tour the restored State Capitol and visit the nearby First White House of the Confederacy and the Alabama Department of Archives & History.
Depot museums in Huntsville, Selma and Stevenson offer glimpses into the lives of Confederate and Union soldiers, and excellent examples of Civil War weaponry and equipment are on display at Anniston's Berman Museum, Decatur's Blue and Gray Museum and the Bessemer Hall of History. Visit Birmingham's Arlington, and see where Union commanders planned the 1865 march that led to the burning of the University of Alabama in Tuscaloosa.
Find more Civil War landmarks and attractions in the Civil War Trail brochure.
Cradle of the Confederacy Trail
Marion
Selma
Old Cahawba Archaelogical Park
Montgomery
Tuskegee Confederate Monument
Tallassee
Fort Tyler, Lanett
Shorter Cemetery, Eufaula
Union Springs Confederate Cemetery
Dale County Confederate Soldier Monument, Ozark
Newton Civil War Monument
1. Marion Female Seminary
While teaching here in 1861, Prussian-born artist Nicola Marschall designed the first national flag of the Confederate States of America, "The Stars and Bars." It was officially adopted by the Confederate States of America on March 4, 1861, and served as the national flag of the Confederacy longer than any other banner.
1. Marion Military Institute
During the Civil War, Breckinridge Military Hospital was established on the campus of Marion Military Institute. Confederate soldiers who died at the hospital were buried behind the campus. After the war, their remains were exhumed and re-interred at St. Wilfrid's Cemetery. Also buried at St. Wilfrid's is William Brooks who served as president of Alabama's Secession Convention in January 1861.
2. Old Depot Museum
Interpretive history museum in 1891 railway depot. Artifacts from pre-history Indians through Voting Rights era. Civil War room, Black Heritage wing, military room. Victorian firehouse, antique rail cars.
2. Old Live Oak Cemetery
Graves of Confederate soldiers and prominent Selma residents. Includes statue of Elodie B. Todd, half-sister of Mary Todd Lincoln; mausoleum of Vice President William Rufus King; and the final resting place of Benjamin Sterling Turner, Alabama's first black congressman.
2. Smitherman Historic Building
The building was used as a Confederate hospital and features the Lewis Collection of Civil War memorabilia.
3. Old Cahawba Archaeological Park
Alabama's first permanent capital and most famous ghost town. Archaeological Interpretive Park includes welcome center and education room, picnic area, hiking trails, interpretive signs, historic ruins. New, accessible nature trail.
4. Alabama Department of Archives & History
Alabama marble building. Oldest state-funded archives in U.S. Research government, private historical records and family genealogy. Alabama Indian, 19th-century, military and Civil Rights exhibits. For children: Grandma's Attic in hands-on gallery.
4. Alabama State Capitol
Jefferson Davis was sworn in as President of the Confederate States of America on Feb. 18, 1861. A star on the Capitol steps marks the inauguration.
4. First White House of the Confederacy
1835 Italianate-style house was home to President and Mrs. Jefferson Davis while capital of Confederacy was in Montgomery. Home completely furnished with period pieces from 1850s and 1860.
4. Winter Building
On April 11, 1861, Confederate Secretary of War L.P. Walker sent the telegram from the second floor office of the Southern Telegraph Company in the Winter Building to Charleston, SC, authorizing Confederate Gen. Beauregard to fire on Fort Sumter. The bombardment of Fort Sumter the following day was the first military action of the Civil War.
5. Tuskegee Confederate Monument
The monument was erected in memory of the Confederate soldiers from Macon County by the United Daughters of the Confederacy in 1906.
6. Tallassee Confederate Armory
When the Confederacy feared for the security of Richmond, VA, a decision was made to relocate Richmond Carbine to an 1844 cotton mill in Tallassee. Only Confederate armory to survive the Civil War.
6. Tallassee Officers Quarters
When the Confederate Armory was moved to Tallassee in 1864, three homes were constructed by the Confederate government to house the officers in command. (Two of the three houses remain and they are now used as offices.)
7. Fort Tyler
Located on the Alabama-Georgia border, Fort Tyler was the site of one of the last Civil War battles (April 16, 1865) to take place east of Mississippi.
8. Historic Shorter Cemetery
Civil War-era cemetery. Burial site of Alabama Civil War Governor John Gill Shorter, his family and family slaves.
9. Union Springs Confederate Cemetery
The cemetery is the burial site of both Union and Confederate soldiers.
10. Dale County Confederate Soldier Monument
Dedicated to the Dale County Confederate soldiers who fought in the Civil War.
11. Newton Civil War Monument
Stone marker is reminder of the only Civil War action in Wiregrass area. It occurred in Skipperville in 1864, and Newton one month before the war ended in 1865.
Ironworks Trail
University of Alabama, Tuscaloosa
Brierfield Ironworks Historical State Park, Brierfield
Tannehill Ironworks Historical State Park, McCalla
Bessemer Hall of History Museum
Arlington Antebellum Home, Elyton (Birmingham, 1871)
Smith-Harrison Museum, Columbiana
Confederate Memorial Park, Marbury
1. University of Alabama Campus
On April 4, 1865, a Union Brigade under Gen. John T. Croxton burned the University of Alabama. The Gorgas House and President's Mansion were two of only four university buildings that survived the attack.
2. Brierfield Ironworks Historical State Park
The Confederate government purchased the furnace from the Bibb County Iron Company in 1863 and soon added a second furnace and rolling mill. In March 1865, the Union 10th Missouri Cavalry burned the Brierfield Ironworks.
3. Tannehill Ironworks Historical State Park
Museum, gristmill, country store, pioneer cabins and remains of Tannehill Ironworks cold-blast furnaces which began Birmingham's iron industry.
4. Bessemer Hall of History Museum
Housed in renovated Southern Railway Terminal. Contains artifacts, documents, photographs, 1800s furnishings and farm implements, Civil War collection relating to 1862 28th Alabama Regiment, antique telephone display, library.
5. Arlington Antebellum Home and Gardens
Decorative arts museum, built c. 1850. Fine collection of 19th-century furniture, textiles, silver, paintings. Site where Union troops planned burning of University of Alabama. Gardens for weddings, tearoom for meetings and food-service events.
6. Smith-Harrison Museum
The museum includes family artifacts from Confederate General Robert E. Lee.
7. Confederate Memorial Park
Site of Alabama's only home for Confederate veterans. Two cemeteries contain 313 graves. Museum houses Civil War uniforms, weapons and equipment, plus many relics from Soldiers' Home. Walking & driving tours, nature trail, picnic areas.
Last Battle Trail
Historic Fort Gaines, Dauphin Island
Mobile
Historic Blakeley State Park, Spanish Fort
Fort Morgan State Historic Site, Gulf Shores
1. Historic Fort Gaines
As Admiral Farragut's fleet of 14 frigates and four iron-clad monitors prepared to engage Forts Gaines and Morgan on August 5, 1864, Col. Charles Anderson and his 800 Confederate troops were ordered to hold Fort Gaines at any cost. The Union monitor Tecumseh struck a torpedo and sank immediately. Seeing the screw propellers of the sinking Tecumseh turning in the air, Admiral Farragut bellowed, "Damn the torpedoes! Full speed ahead!" Immediately after gaining safety in Mobile Bay, Farragut's attention turned upon Fort Gaines. On August 8, Fort Gaines surrendered.
2. Admiral Raphael Semmes House
Raphael Semmes moved to Alabama in 1842. When Alabama withdrew from the Union in 1861, Semmes resigned from the U.S. Navy and was commissioned a commander in the Confederate Navy. He was promoted to Captain and assumed command of the CSS Alabama. During its 22-month career as a commerce raider, the Alabama cruised for nearly 75,000 miles and captured 65 Union vessels worth more than $6 million. The Alabama was sunk off the coast of Cherbourg, France, on June 2, 1864, by the USS Kearsage.
2. Confederate Rest, Magnolia Cemetery
In addition to being the resting place for 1,100 Confederate war dead, the Confederate Rest portion of Historic Magnolia Cemetery contains Civil War monuments and a memorial to the men who died aboard the Mobile-built CSS Hunley submarine in Charleston Harbor in 1864.
2. The Museum of Mobile
Innovative exhibits come alive in this National Historic Landmark. Explore Mobile as the first Americans saw it. Relive the jouney of African-Americans. Sense the revelry of Mardi Gras. Get your hands on history.
2. USS Alabama Battleship Memorial Park
Explore mighty battleship, winner of 9 battle stars in World War II. See Mach 3 A-12 Blackbird supersecret spy plane and B-52 stratofortress Calamity Jane, submarine USS DRUM plus 22 other aircraft and weaponry from all branches of military.
3. Historic Blakeley State Park
Remains of earthen forts, old rifle pits, redoubts and battery sites dot the park's 3,800 acres. Following the fall of nearby Spanish Fort on the night of April 8, 1865, orders were issued to take Blakeley by assault. The general advance began at 5:25 p.m. on April 9, six hours after Lee surrendered at Appomattox. Fort Blakeley fell in the last battle of the Civil War.
4. Fort Morgan State Historic Site
Construction began 1819, completed 1834. Large brick fort serviced the Civil War, Spanish-American War and both world wars. It played a major role during the Battle of Mobile Bay (1864). Museum details fort's history.
Streight's Raid Trial
Emma Sansom Monument, Gadsden
Janney Furnace, Ohatchee
Berman Museum of World History, Anniston
Gallant Pelham Statue, Jacksonville
Cornwall Furnace Park, Cedar Bluff
1. Emma Sansom Monument
Under gunfire, teenage heroine Emma Sansom guided Gen. Forrest's troops across Black Creek near Gadsden on May 2, 1863. The following day, Confederate forces captured Union Col. Streight and his entire command of 1,466 men near Cedar Bluff.
2. Janney Furnace
Alfred A. Janney began construction of the iron furnace near Ohatchee in 1863. The furnace was still under construction when it was almost completely destroyed by Union troops commanded by General Rousseau in July 1864.
3. Berman Museum of World History
Historical objects of American West, world wars, Napoleon Bonaparte, Jefferson Davis and Adolf Hitler. Swords (including one with 1295 diamonds), sacred and secular art from Asia, 19th-century European sculptures.
4. The Gallant Pelham Statue
The statue is located in the Jacksonville City Cemetery. John Pelham, born in nearby Alexandria, was an artillery expert who fought with J.E.B. Stuart and Stonewall Jackson. General Robert E. Lee referred to him as "the gallant Pelham." He was killed at age 24 at the Battle of Kelly's Ford.
5. Cornwall Furnace Park
Erected in 1862, cold blast furnace was first in county to be powered by water. Furnace supplied iron ore for foundries in Rome, GA, where armaments were forged for Confederate States of America.
Tennessee Valley Trail
Waterloo
Florence
Pond Spring, Hillsboro
Decatur
Athens
Huntsville
Stevenson Railroad Depot Museum
Trough Springs Trail
1. Edith Newman Culver Memorial Museum
Filled with antiques, Civil War relics, Native American artifacts, military displays. Two-story frame house built 1872 in traditional T-shape with 3 chimneys, 6 fireplaces.
2. Pope's Tavern Museum
The one-time stagecoach stop, tavern and inn was used as a hospital by Confederate and Union forces during the Civil War. The upstairs museum houses an extensive collection of Civil War artifacts.
3. Pond Spring, the General Joseph Wheeler Home
Alabama Historical Commission property. 50 acres, 13 historic buildings. Main museum: Wheeler family's original furnishings. General "Fighting Joe" Wheeler served in Confederate Cavalry, Spanish-American War.
4. Decatur Civil War Walking Trail
Self-guided walking tour of Decatur's Civil War sites. Brochures available at Decatur Visitors Center, Old State Bank and Bank Street merchants.
4. The Old State Bank
Pre-Greek Revival structure is oldest bank in state. Used as hospital during Civil War, one of only 4 buildings left standing when war ended.
5. City of Athens
Burned and looted by Union troops, May 1862. The 1st Alabama Cavalry was unable to retake the city in Jan. 26, 1864 Battle of Athens.
6. Dred Scott Home Site
Dred Scott, the plaintiff in the famous Scott v. Sanford case, was brought to Huntsville as a slave in 1818 and lived in Alabama for 12 years. In its now infamous decision, the U.S. Supreme Court ruled against Scott 7-2 in 1857, saying that no blacks, free or slave, could be citizens of the United States.
6. Historic Huntsville Depot
Climb on locomotives, examine Civil War graffiti, and listen as robotic ticket agents tell about working for railroad. Exciting hands-on programs available. Home of Rocket City BBQ Cook-Off and Whistle Stop Festival. The Huntsville Depot was used as a Union hospital, prison and as quarters for both black and white Union soldiers, who left graffiti on the third floor walls.
7. Stevenson Railroad Depot Museum
In 1861, Stevenson was a vital rail link to major points throughout the Southeast. Union General Rosecrans' forces constructed a pontoon bridge across the Tennessee River at Stevenson in 1863, allowing thousands of Union troops to cross the river and advance on the battlefield at Chickamauga.
8. Trough Springs Trail
North Alabama History at its best! The Trough Springs Trail begins on Monte Sano State Park property and crosses the Burritt Museum property to The Land Trust's Trough Springs property. Hikers follow the trail to the site of the Civil War surrender of Lt. Col. Milus E. "Bushwacker" Johnston and the North Alabama Confederate troops. Begin at the Natural Well Trail head on Monte Sano Blvd., across the street from the entrance to Burritt Museum.