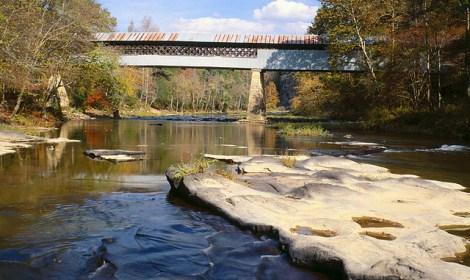 Alabama is home to a number of historic covered bridges. The Alamuchee-Bellamy Covered Bridge, located on the University of West Alabama campus in Sumter County, was built of hand-hewn heart-pine timbers joined with wooden pegs over the Sucarnoochee River in 1861. Later moved to Alamuchee Creek, this is West Alabama's only remaining covered bridge. In 1969, it was restored and moved to its current location. The Clarkson Covered Bridge and Park features one of the largest covered bridges in Alabama. The truss bridge was built with lattice-style planks in 1904 and restored in 1975. Enjoy the shaded picnic grounds, dogtrot log cabin, gristmill and hiking trails.
Three covered bridges still exist in Blount County, the Covered Bridge Capital of Alabama and home of the annual Covered Bridge Festival. Spanning 324 feet and situated high above the rocky riverbed of the Black Warrior River, Swann Covered Bridge is the longest covered bridge still in existence in the state. It was built around 1933. Old Easley Covered Bridge is a one-span town bridge built in 1930. Tin-covered and in fairly good repair, all 95 feet of its single span are preserved. And Horton Mill Bridge, built in 1935, is one of the highest covered bridges in the nation, standing 70 feet above the Black Warrior River.
Located at the Shady Grove Dude Ranch near Mentone, the 90-foot-long Old Union Crossing Covered Bridge spans the West Fork of Little River. It was moved from Lincoln in 1972 and rebuilt in 1980 over an existing cable bridge from the late 1800s. In Etowah County, Gilliland-Reese Covered Bridge was made in 1899 of rough-hewn lumber and covered with weathered shingles. In 1968, the structure was hauled to the pioneer setting of Noccalula Falls Park and carefully restored. Coldwater Covered Bridge, one of Alabama's oldest remaining covered bridges, was built in 1850 by a former slave. It was later restored and moved from Coldwater Creek to its current location at Oxford Lake and Walking Trail in Calhoun County. In Talladega County, both the Waldo Covered Bridge and Kymulga Grist Mill & Covered Bridge were constructed in the mid-1800s and span scenic Talladega Creek.
You can also visit some new covered bridges. Poole's Covered Bridge is located at the Pioneer Museum of Alabama in Troy. In Monroe County, Rikard's Mill is a historical park featuring a covered bridge and covered bridge gift shop as well as a restored water-powered gristmill, blacksmith shop and cane syrup mill. And the Horace King Covered Bridge Replica in Valley is built in the style used by Horace King, a famous black engineer, humanitarian and legislator of the Civil War era.