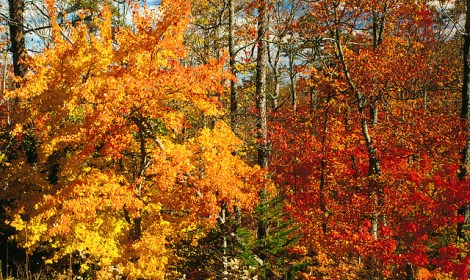 Alabama is beautiful throughout the year but especially in the fall. As the greens of summer surrender to glittering yellow poplars, scarlet dogwoods, orange maples and golden hickories, Alabama unfolds its patchwork quilt of color. This blend of brilliant autumn foliage, coupled with cooler temperatures and an occasional gentle breeze, makes for an unforgettable experience. Fall colors will begin showing in the mountains of North Alabama in early October and then sweep across the region. Colors will be at their peak from late October to early November.
At Oak Mountain State Park (1) in Pelham, take in the view from Peavine Overlook and Peavine Falls. Head north to Oneonta/Blount County (2) and enjoy the color from Horton Mill, Old Easley or Swann covered bridges and Palisades Park. Take the drive on I-59 up Whitney Mountain near Oneonta, and proceed up U.S. 231. In Cullman/Cullman County (3), the Ave Maria Grotto and the 277-foot-long, 90-foot-high Clarkson Covered Bridge offer excellent views, as do scenic drives U.S. 31 and 278. From Bankhead National Forest, (4) take AL 195 to Double Springs, to AL 33, then take Forest Service roads 249, 262, 245 and 255 to CO 63 and back to AL 33.
Developed from a network of Indian trails between Natchez, Miss., and Nashville, Tenn., the Natchez Trace (5) cuts diagonally across the northwestern corner of the state. Follow the entire 33 miles of the Trace through Alabama and head to Joe Wheeler State Park (6). Admire the view from the Joe Wheeler Dam near the cabin area on the Lawrence County side. After leaving U.S. 72, take a four-mile scenic drive into the park's resort area on the Lauderdale County side. In Huntsville, Monte Sano State Park (7) offers beautiful foliage on Warpath Ridge Trail and its overlooks. Take scenic drives U.S. 72 out of Scottsboro and U.S. 431 out of Guntersville. A recommended viewing spot in Scottsboro/Jackson County (8) is Russell Cave National Monument. Scenic drives: AL 79 across Skyline Mountain, AL 279, AL 65 through the Paint Rock River Valley, and U.S. 72.
See Lake Guntersville State Park (9) from the lodge atop the mountain, then take AL 227 through the park and into Buck's Pocket State Park and nearby DeKalb and Etowah counties. In Gadsden/Etowah County (10), Noccalula Falls Park provides a bounty of fall color, as do drives on US 278, 11 and 411. Head to Ft. Payne and check out DeSoto State Park and Lodge, DeSoto Falls and Little River Canyon (11). Lookout Mountain Parkway, DeSoto Parkway and Old DeSoto Parkway provide lovely views. AL 176, part of Lookout Mountain Parkway, includes scenic overlooks of Little River Canyon. Finally, Cheaha State Park (12) is the highest point in the state at 2,407 feet above sea level. Enjoy fall color from Bald Rock and Pulpit Rock trails as well as Talladega Scenic Drive, Skyline Drive and Skyway Motorway.
See a suggested circle tour that includes many of these fall color spots.
2023 Alabama Fall Color Trail
Roll over dates to see the predicted fall color change for that weekend.
SEPT 30
OCT 7
OCT 14
OCT 21
OCT 28
NOV 4
NOV 11
NOV 18
NOV 25
No Foliage
Some
Moderate
Peak
Past Peak